Vivien Soddenfeld (Delilah Tramone)
Who could have ever guessed that Vale had a sister? Hidden away for years with a debilitating disease, Vivien hated her sister's fortune in life an in love. Searching for fulfillment in the world denied her for so many years, she toured Europe, only to succumb to the lure of the seedy underworld rife with drugs, prostitution, and violence. Strung out on heroin, and without any more of her trust fund, she ran into Bradley in a chance meeting on a Madrid street corner. No doubt they both have their own reasons for returning, but just what are they seeking? Are they there to seek peace, or revenge?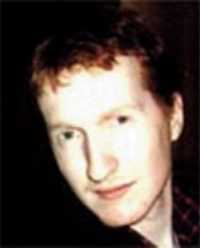 Coen O'Connor as played by Durham Reed
The youngest mayor ever to serve Grecian Hill's prestigious government post, Coen was shrouded in mystery and big money. With a virtuous face and a slight burr to his every euphemism, his innocent looks mask a man with an unknown past and shady underworld dealings with the IRA. Known for his gregarious nature, as well as occasional outings with the Carluso clan, the citizens of Grecian Hills know not to disturb the precious balance of peace by upsetting his schemes. Ignorance is bliss, but perhaps things aren't meant to be idyllic in Grecian Hills.